Zon del Barrio - Events
Friday, June 26, 2015
Sunday Afternoon Danzettes, Juy 12 - Aug. 9th.
Starting July 12th, 2015, Zon del Barrio will host FIVE (5) consecutive Sunday afternoon "danzettes" where our fans & the public are invited inside the air conditioned multi-service room of the Julia de Burgos Performing Arts Center from 3 pm until 8 pm. Admission is FREE with food and drink for sale as well as FREE live music with resident band Zon del Barrio plus surprise guests.

Spend the afternoon dancing to salsa, boogaloo, plena, bomba, merengue and more.

Sunday Afternoon Danzettes
July 12th - August 9, 2015
Julia de Burgos Performing Arts Center
1680 Lexington Avenue
New York, NY 10029

http://www.jdbpacnyc.org/events/

Monday, May 18, 2015
Celebrate Nicky Marrero's 65th birthday on Father's Day
Join us in celebrating Fania All-Star alum, Nicky Marrero's 65th birthday & 50 Years in Latin Music in a special Father's Day afternoon Danzette w/ Orq. Zon del Barrio and many special, surprise guests. Spend the afternoon dancing, socializing, eating and schmoozing with one of Latin music's top drummers who has played with everyone from Eddie Palmieri to Tito Puente. Celebrate Nicky Marrero in his 65th musical year.

Food, drink and Salsa Warriors' Carmen Cepeda will be spinning the hits all afternoon.

$20 at the door.

www.zondelbarrio.com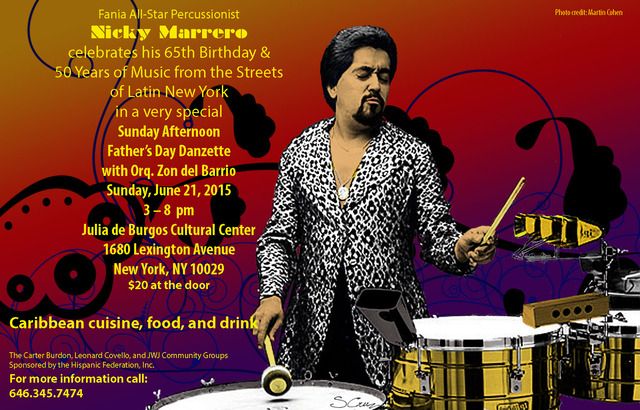 Nicky Marrero w/ Oreste & David of ZDB in a Descarga Timbal:



Wednesday, April 15, 2015
Sat. May 16: El Barrio's Ethnic Festival on 104 btwn 3rd & 2nd.
Join us in celebrating the diversity of East Harlem @ the 23rd Annual Ethnic Festival as we put on a Salsa Dance Block Party alongside Fania All-Star Alum: Nicky Marrero on timbales.

Saturday, May 16, 2015
11 am until 5 pm

Union Settlement
237 East 104th Street
New York, NY 10029

The Dance Party w/ Zon del Barrio starts just before 4 pm. Be there.


Union Settlement fetes East Harlem's unique cultural heritage through music, dance, arts and crafts, ethnic cuisine and children's activities. The Ethnic Festival attracts thousands of area residents and visitors every year. This year, the flyer was designed by artist Manny Vega and there is an exciting line up of performers w/ something for everyone.

From 11 am until 5 pm we'll be celebrating all there is of East Harlem. Zon del Barrio will close the show alongside Danza Fiesta.

Just like last year, there will be an outdoor stage with a large variety of multi-cultural entertainment, over 50 independent, local vendors and exhibitors on the street, and other activities going on throughout the day for all age groups.

This year we are "Empowering East Harlem" through various featured activities found in our "Power Stations."

The Power of Health:
Thanks to the Charles B. Wang Community Health Center and the National Association of Hispanic Nurses, we will be able to provide free blood pressure or bone density testing, and health education and counseling in English, Spanish and Mandarin.

The Power of Good Nutrition:
Cooking demonstrations and tastings by SMART University, local cookbook author Eris Garriga and area restaurants, such as Blue CoCo.

The Power of Exercise:
ZUMBA and Tai Chi exhibitions on the main stage.

The Power of Art:
We're showcasing a Mini Museum Mile brought to you by the Metropolitan Museum of Art, the New York Transit Museum, the National Jazz Museum, the Museum of the City of New York and El Museo del Barrio.

The Power of Craft:
Arts and Crafts are recognized forms of improving mental health. They're also downright fun!

The Power of Beauty:
Enjoy makeovers from the experts from MAC Cosmetics.

Also, we are bringing back two special activities that have been particularly popular among the little ones: a wild animal zoo and pony rides in our community garden. In addition, we will have face painting, a clown, popcorn, cotton candy, a basketball tournament and fashion shows for the young adults.

http://unionsettlement.org/ethnicfest/


See full festival details at unionsettlement.org/ethnicfest.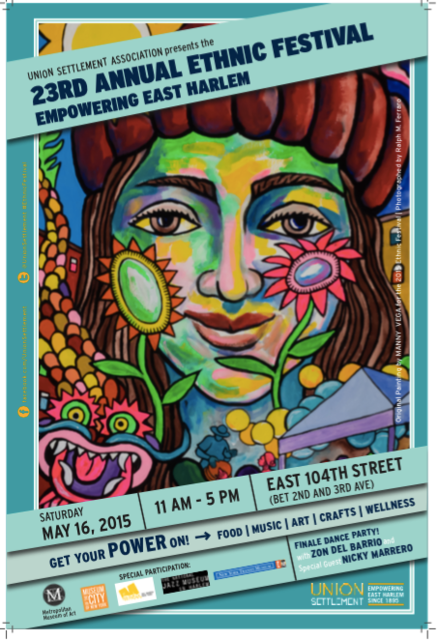 Thursday, March 19, 2015
Easter Sunday Danzette celebrating 87 years of CHOCOLATE Armenteros
Celebrate Spring in this Easter Sunday danzette celebrating 87 years of Chocolate Armenteros, An Afro-Cuban trumpet legend.

Considered the Louis Armstrong of the Afro-Cuban Trumpet for those who know nothing of Latin music, but for all the rest we celebrate his 87 Years of Funk THIS SUNDAY in a special Easter Sunday afternoon danzette marking 87 years of Chocolate Armenteros,

He can be seen over youtube schooling Wynton Marsalis on the improv style of the Afro-Cuban trumpet. He organized the big band of his cousin in Cuba, the great crooner Benny Moré after making his name in the band of Arsenio Rodriguez, the blind marvel. He arrived in New York in 1957 with a contract to play in the Machito Orchestra. From there he did the Apollo, Dizzy, Eddie Palmieri, Larry Harlow, Johnny Pacheco, Ismael Rivera and so many more.

Chocolate is celebrating his 87th birthday and will be backed by Zon del Barrio with a 13 piece orchestra with musical direction by David Fernandez.

Enjoy an old school afternoon of Palladium dancing, Latin jazz, and Latin music legends. Surprise guests. Salsa Warriors' own Carmen Cepeda will be spinning that afternoon.

Rumberos Amigos de Chocolate will kick off the show playing Bata, Guiro, Palo and Rumba.

The members include:
Antonio Mayari,
Carlos Sanchez
Hector(Flaco) Hernandez
Jose Fernandez
Jimmy Cruz
Willie Sanabria
Babaila Martinez

Rumberos de Chocolate will be followed by Orchestra Zon del Barrio with Maryann Santiago & Jorge Maldonado on lead vocals. Plus, surprise invited guests. Salsa Warrior's own Carmen Cepeda will be spinning all afternoon.

Zon del Barrio will perform "Zon del Chocolate" and the newly commissioned Danzon: "Villa Ranchuelo" written & arranged by David Fernandez.



[b]Sunday: April 5, 2015
Doors open: 2 pm - 8 pm
$20

Julia de Burgos Cultural Center
1680 Lexington Avenue
New York, NY 10029

Zon del Barrio featuring Chocolate Armenteros:



An original for an original: Zon de Chocolate:

Friday, December 19, 2014
PARRANDA: THIS SAT: Dec. 20, 2014 @ La Marketa 5 pm
Join us for a special holiday down home PARRANDA caroling at La Marketa on 115th St & Park. Bring your instruments, your songs & your love.

Doors open @ 5 pm party continues until 8 pm

Music begins @ 6

¡WEPA!


Friday, November 28, 2014
¡FELICIDADES! HAPPY HOLIDAYS From Zon del Barrio
Create a free greeting card
Tuesday, October 07, 2014
Sunday, Oct. 19th 100 Years of Latin Music in N.Y.



Join Zon del Barrio as we take you through a musical time line of New York history, Latino style. From danzon to guarachas, plenas to rumbas, mambo to merengue, bomba to boogalu all the way to salsa. Spend the afternoon dancing to musical memories.

Showtime: 3 pm

Jamaica Performing Arts Center
153-10 Jamaica Avenue
Jamaica NY 11432

(718) 618-6170

http://www.jamaica-performingartscenter.org

E J Z Jamaica Center - Parsons/Archer

Cost:
$15 Adults; $12 Seniors/Students; $10 JCAL Members





Friday, October 03, 2014

An Audience With the King

The King & I
Published in the Hunter College Centro Journal, Oct. 2, 2014






By Aurora Flores




I was on my way to interview Tito Puente, the King of Latin Music, and my first major assignment as a writer. I was excited, elated to have been picked for this project, and nervous, very nervous. Absentmindedly, I bit the last of what remained of my right thumbnail thinking of the many questions I had researched over the past few days as the #1 train pulled into my station. It was hard to see the stop from inside the bubble-art, graffiti-covered car, "Taki 183" tagged all over the windows. I already knew to get off three local stops after Seventy-Second Street. Climbing the stairs at the Fiftieth Street exit, I pulled the yellow piece of paper from my pocket: RMM Management, 1650 Broadway and Fifty-First.

Click on the link above to read the entire article here: bit.ly/1xGnRr1


Thursday, August 28, 2014

ZDB @ the 5th Annual Bushwick Back to School Block Party

Come and join us with live music, our Dj Woody and most important entertainment for our wonderful kids. We will also keep up the traditional of giving out school supplies and back packs.

We look forward to seeing all of you. Bring school supplies for the children.

Sunday: Aug. 31st All Day

465 Bushwick Ave.
Btwn Bushwick and Montieth
Brooklyn, NY 11206

¡A GoSalza!


Friday, August 22, 2014

Zon del Barrio @ Atlas Park Mall in Queens on Mon. Aug. 25, 2014

Back by popular demand we'll be performing two shows hitting at 7 pm.

Join us for some dancing in the mall. It's FREE!

Monday, August 25, @ 7 pm

Atlas Mall
8000 Cooper Ave,
Glendale, New York 11385