Zon del Barrio - Events
Thursday, July 21, 2016
Rock w/ us @ the High Line on Wed. Aug. 3rd
¡ARRIBA!: LATIN DANCE PARTY

DATE & TIME
Wednesday, August 3, 2016 7:00 pm to 9:00 pm
LOCATION
Chelsea Market Passage, on the High Line at West 16th Street

In the mood for some rhythm? Grab your friends and get your body moving on the High Line as the park is transformed into a dance floor featuring some of the hottest Latin bands in NYC.

You won't be able to stop dancing to these rhythms. Aurora & Zon del Barrio perform foot-stomping, funk-based, classic salsa, plena, merengue, bomba, and boogalú from all corners of the Barrios. This group of veteran and young musicians is led by powerful singer/songwriter, music journalist and historian Aurora Flores, with musicall direction by multi-instrumentalist David Fernandez.
FREE – RSVP NOW by clicking on the link below.

Link">[link=http://www.thehighline.org/activities/arriba-latin-dance-party-with-aurora-flores-y-zon-del-barrio]Link

Monday, July 18, 2016
ZDB @ Old Westbury Gardens Wed. July 20 - 6 – 9 pm
Bring a lawn chair or blanket and a couple of friends, and we'll provide the soundtrack for an enjoyable evening under the stars.

Arrive early to picnic and stroll the gardens. Gates open at 5:00 pm. Dance lesson at 6:30 pm. Concert starts at 7:00 pm. $10.00 General Admission; $8.00 - 62 and older; $8.00 - members; free for children 17 and under.

Picnic Pops Summer Concert Series @ Old Westbury, click the LINK for more info:
Link


71 Old Westbury Rd, Old Westbury, NY 11568-1603, United States

Saturday, March 26, 2016
Memorial for Chocolate Armenteros: Sunday, April 3rd, 3–7 pm
Friday, February 19, 2016
100 Years of Latin Music in N.Y. on Friday, March 25th
Take a musical,hip-shaking, funk-based journey through 100 years of Latin mambo, merengue, salsa, plena, and boogaloo music from the African Diaspora to the streets of New York featuring the danzón, Villa Ranchuelo in a special Afro-Cuban tribute to Alfredo "Chocolate" Armenteros. A musical extravaganza celebrating Nuyorican tradition & culture led by bandleader, composer, and historian Aurora Flores with orchestra Zon Del Barrio and dancers.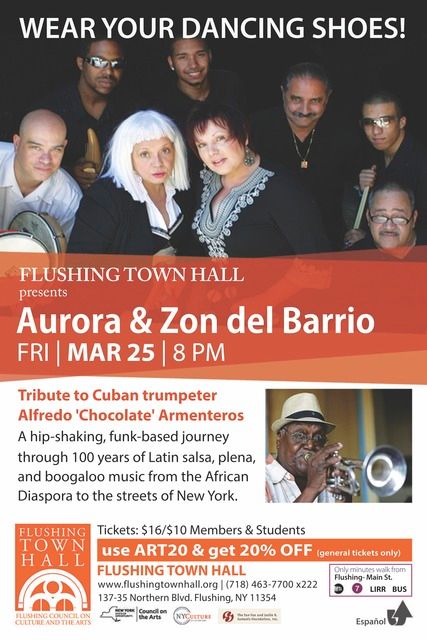 Friday, March 25, 2016 • 8 pm
Flushing Town Hall
137-35 Northern Blvd.
Flushing NY 11354

www.flushingtownhall.orgLink

Take a peek @ our last show.




http://jazzdelapena.com/new-york-report/alfredo-chocolate-armenteros-a-sweet-life-by-aurora-flores/




An original tune for Chocolate:



"Surely all art is the result of one's having been in danger, of having gone through an experience all the way to the end, where no one can go any further."- Rainer Maria Rilke

The King & I. Meeting Tito Puente for the first time.
Link">http://bit.ly/1xGnRr1[link=]Link[/link]


Wednesday, January 27, 2016
Wed. Jan.27th @ El Museo del Barrio, 104 & 5 from 6—9 pm
There's a party tonight in El Barrio. Join Zon del Barrio & the E. Harlem community this Wednesday, Jan. 27th from 6 — 9 pm @ El Museo del Barrio @ 104th Street & Fifth Ave. in NYC in finalizing the recommendations for the East Harlem Neighborhood Plan.

There will be food, drink, dance & music by Zon del Barrio & it's FREE!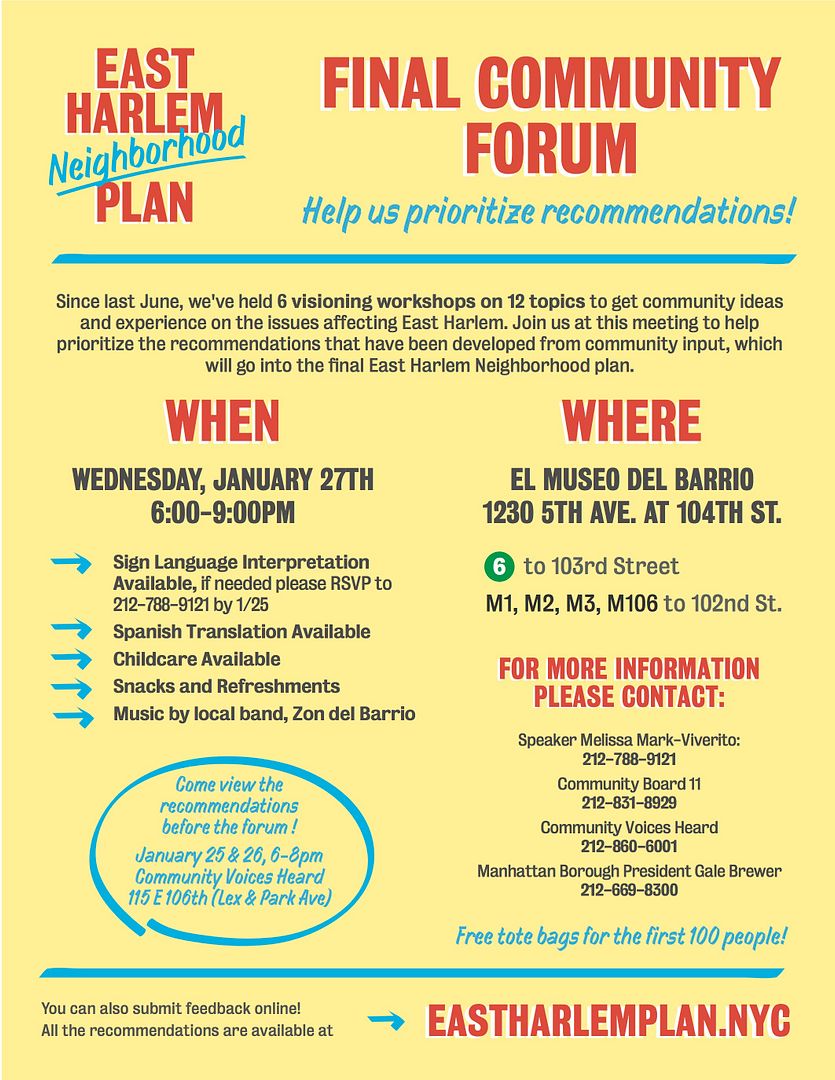 Friday, December 18, 2015
Parranda @ La Marqueta 12/19/15 3 - 6 pm
Join us in El Barrio @ La Marqueta Saturday, 12/19 @ 116th & Park from 3 — 6 pm for a Holiday Parranda filled with music, food, vendors, artisans and plenty of holiday cheer.

Meet the Speaker Melissa Mark-Viverito @ 3:30 and enjoy a performance by Los Pleneros de la 21 followed by music from
Zon del Barrio...¡Wepa!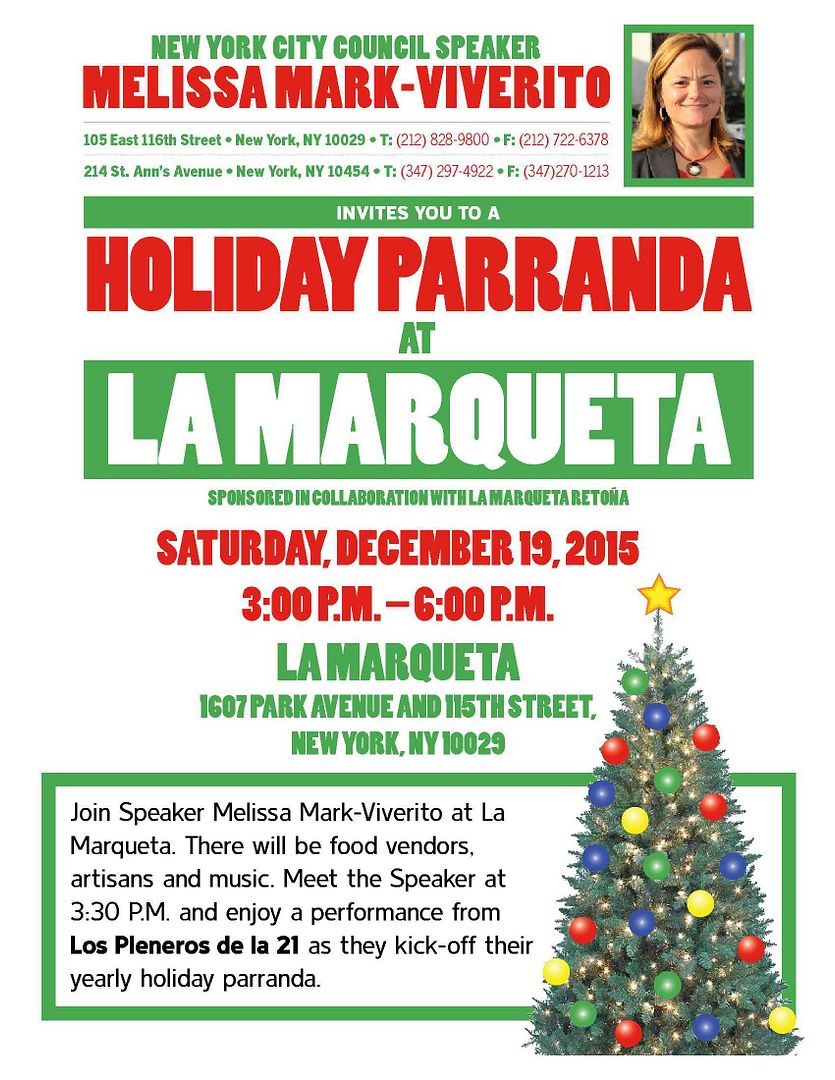 Check out the parranda over Telemundo here:
https://www.telemundo.com/shows/un-nuevo-dia/videos/un-nuevo-dia/chismes/parrandas-navidenas-en-nueva-york-ritmo-de-musica-y-timbales-1011811?page=1

Saturday, December 05, 2015
Parranda @ the High Line
Join us for some hot chocolate followed by cool tunes & a saucy parranda to spice up the holiday season on
Saturday, Dec. 12 in
Chelsea's Fulton PJs' plaza
on West 17th Street btwn 9th & 10th Aves.
from 2:30 — 4 pm

Can I get a WEPA?!


Monday, May 18, 2015
Celebrate Nicky Marrero's 65th birthday on Father's Day
Join us in celebrating Fania All-Star alum, Nicky Marrero's 65th birthday & 50 Years in Latin Music in a special Father's Day afternoon Danzette w/ Orq. Zon del Barrio and many special, surprise guests. Spend the afternoon dancing, socializing, eating and schmoozing with one of Latin music's top drummers who has played with everyone from Eddie Palmieri to Tito Puente. Celebrate Nicky Marrero in his 65th musical year.

Food, drink and Salsa Warriors' Carmen Cepeda will be spinning the hits all afternoon.

$20 at the door.

www.zondelbarrio.com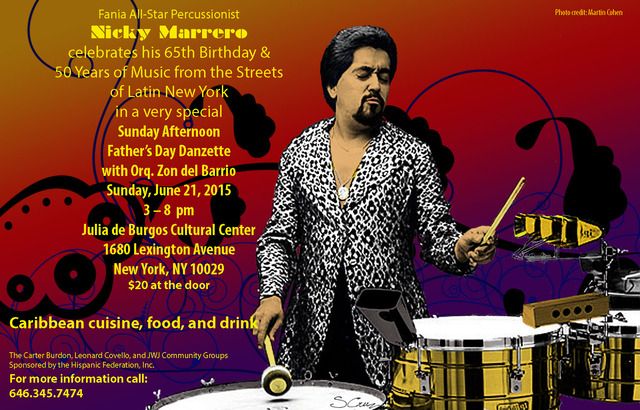 Nicky Marrero w/ Oreste & David of ZDB in a Descarga Timbal:




Thursday, March 19, 2015

Easter Sunday Danzette celebrating 87 years of CHOCOLATE Armenteros

Celebrate Spring in this Easter Sunday danzette celebrating 87 years of Chocolate Armenteros, An Afro-Cuban trumpet legend.

Considered the Louis Armstrong of the Afro-Cuban Trumpet for those who know nothing of Latin music, but for all the rest we celebrate his 87 Years of Funk THIS SUNDAY in a special Easter Sunday afternoon danzette marking 87 years of Chocolate Armenteros,

He can be seen over youtube schooling Wynton Marsalis on the improv style of the Afro-Cuban trumpet. He organized the big band of his cousin in Cuba, the great crooner Benny Moré after making his name in the band of Arsenio Rodriguez, the blind marvel. He arrived in New York in 1957 with a contract to play in the Machito Orchestra. From there he did the Apollo, Dizzy, Eddie Palmieri, Larry Harlow, Johnny Pacheco, Ismael Rivera and so many more.

Chocolate is celebrating his 87th birthday and will be backed by Zon del Barrio with a 13 piece orchestra with musical direction by David Fernandez.

Enjoy an old school afternoon of Palladium dancing, Latin jazz, and Latin music legends. Surprise guests. Salsa Warriors' own Carmen Cepeda will be spinning that afternoon.

Rumberos Amigos de Chocolate will kick off the show playing Bata, Guiro, Palo and Rumba.

The members include:
Antonio Mayari,
Carlos Sanchez
Hector(Flaco) Hernandez
Jose Fernandez
Jimmy Cruz
Willie Sanabria
Babaila Martinez

Rumberos de Chocolate will be followed by Orchestra Zon del Barrio with Maryann Santiago & Jorge Maldonado on lead vocals. Plus, surprise invited guests. Salsa Warrior's own Carmen Cepeda will be spinning all afternoon.

Zon del Barrio will perform "Zon del Chocolate" and the newly commissioned Danzon: "Villa Ranchuelo" written & arranged by David Fernandez.



[b]Sunday: April 5, 2015
Doors open: 2 pm - 8 pm
$20

Julia de Burgos Cultural Center
1680 Lexington Avenue
New York, NY 10029

Zon del Barrio featuring Chocolate Armenteros:



An original for an original: Zon de Chocolate:


Friday, October 03, 2014

An Audience With the King

The King & I
Published in the Hunter College Centro Journal, Oct. 2, 2014






By Aurora Flores




I was on my way to interview Tito Puente, the King of Latin Music, and my first major assignment as a writer. I was excited, elated to have been picked for this project, and nervous, very nervous. Absentmindedly, I bit the last of what remained of my right thumbnail thinking of the many questions I had researched over the past few days as the #1 train pulled into my station. It was hard to see the stop from inside the bubble-art, graffiti-covered car, "Taki 183" tagged all over the windows. I already knew to get off three local stops after Seventy-Second Street. Climbing the stairs at the Fiftieth Street exit, I pulled the yellow piece of paper from my pocket: RMM Management, 1650 Broadway and Fifty-First.

Click on the link above to read the entire article here: bit.ly/1xGnRr1