Zon del Barrio - Events
Thursday, May 16, 2013
Savion Glover & Orq. Zon del Barrio w/ Dancers from Danza Fiesta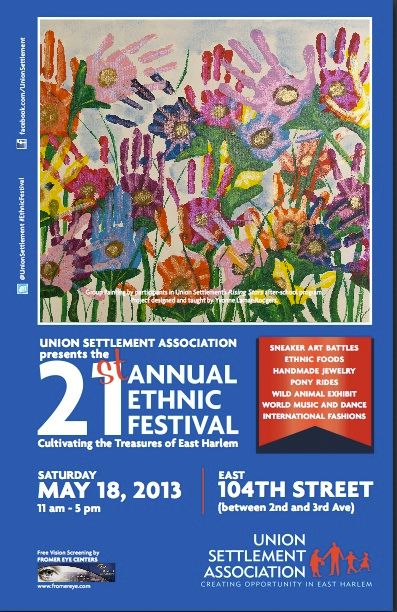 This Saturday we'll be DANCING IN THE STREETS to Savion Glover & Orq. Zon del Barrio.... ZUMBA, SALSA, TAP, FOLK, & THE HARLEM SHUFFLE....

104TH STREET & 3RD AVE. FROM 11 A.M UNTIL 6 P.M.

Tuesday, May 07, 2013
On the Radio this Sat. @ the East Harlem Ethnic Fest next Sat...
Check out our May Newsletter and join us as we visit w/ Vicki Sola this Saturday, May 11 over WFDU.FM from noon to 4 pm, that's over 89.1 on the FM dial and then join us in El Barrio the following Saturday May 18th as we close the East Harlem Ethnic Festival alongside tap dance legend and Tony Award artist...SAVION GLOVER, Ochestra Zon del Barrio & Danza Fiesta! JOIN OUR CARNAVAL ON 104TH STREET BTWN 3rd & 2nd Avenues...from 11 a.m — 6 p.m.

Read all about it here:


Sunday, April 14, 2013
ZDB Unplugged @ American Sabor Exhibit @ Lincoln Center Library
Join us this coming Friday, April 19 at the Lincoln Center Public Library as we welcome everyone to the American Sabor Exhibit and celebrate our delicious culture! Zon del Barrio will be "unplugged" at this special event. ¡A GoSalza!

CULTURA CON SABROSURA... Este viernes, 19 de abril no se pierdan la exposicion de "American Sabor" en la biblioteca de Lincoln Center en Nueva York con una presentacion de voces y cueros de Zon del Barrio... ¡A GoSalza!



American Sabor
Opening Reception

The New York Public Library for the Performing Arts
111 Amsterdam Avenue
New York, NY 10023-6498
7 pm

Monday, February 18, 2013
Tribute to the Women of the Clave: Fri. March 22 @ SOB
Hilites from our Tribute to the Women of the Clave 4 Women's History Month @ SOB's. Check it out & give it a THUMBS UP!




Like Us on FaceBook here:
Link

Watch us over Youtube here:
Link

Tweet us here:
Link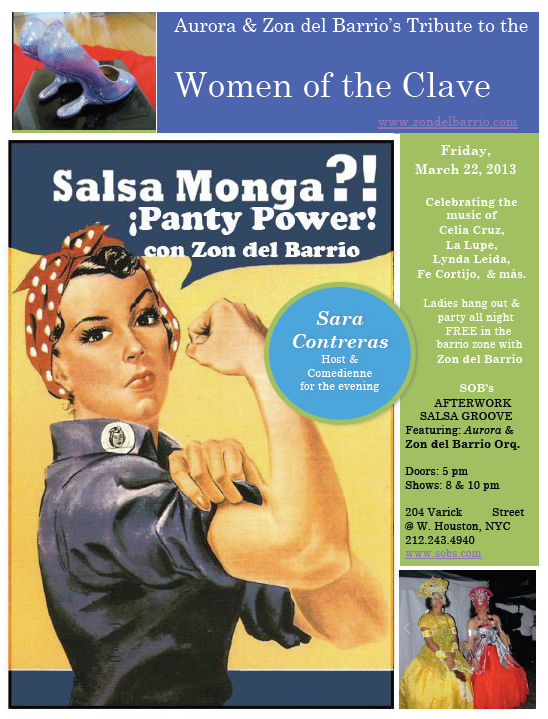 Friday, March 22, 2013

Celebrating the music of
Celia Cruz,
La Lupe,
Lynda Leida,
Fe Cortijo, & más.

Ladies hang out & party all night FREE in the barrio zone with
Zon del Barrio

SOB's

AFTERWORK SALSA GROOVE

Aurora & Zon del Barrio: 12 piece orchestra

Featuring: Maryann Santiago, Nicole Toro & other surprises...

HOST: SARA CONTRERAS of HBO Latin Divas in Comedy

Doors: 5 pm

Shows: 8 & 10 pm

204 Varick Street
@ W. Houston, NYC

212.243.4940
www.sobs.com

Reserve your table today...

LADIES FREE ALL NIGHT....

PANTY POWER, a creative poem from a young poet who refers to when LATINAS, whether from upper ruling class or lower, poor and indigenous, ALL WASH OUR PANTIES BY HAND. We were taught to do this as children NEVER let anyone else touch or wash your panties... we even go in the shower & bath w/ them so WE ALWAYS HAVE CLEAN PANTIES... from our ancestors from long ago. To all the women PANTY POWER!!!!

Tuesday, January 15, 2013
Videos & Photos from our Tribute to Yomo Toro @ the Copa
The place was jammed packed, the dancers were hot and the show was smoking... Remembering Yomo

Recordando un Rey en los dias de los reyes, tributo a Yomo Toro con respeto y corazon de parte de Aurora y Zon del Barrio.



Thursday, December 13, 2012
Tribute to a King for 3 Kings Day/ OCTAVITAS 4 Yomo Toro


We are making this a FREE community event. Join us by sending an email to the guest list:

VIP@thecopacabana.com & cc: aurora@aurora-communications.com

RSVP Yomo Tribute in the subject line place your name and those coming with you. You
will NOT be charged at the door!

THE PARRANDA STARTS AT 9:30 PM. BRING YOUR INSTRUMENTS

http://www.facebook.com/events/168112730001101/
AND JOIN US BEFORE THE SALSA DANCE PARTY.

Like Us on FaceBook here:
Link

Watch us over Youtube here:
Link

Tweet us here:
Link

Listen to our updated experimental version of Aires de Navidad where the brass play the cuatro parts.
Re-arranged by David Fernandez, musical director


Join our Parranda:


Saturday, November 03, 2012
Se Acerca La Navidad: Parranda time... Latino Holiday Music
A littles Aires de Navidad, Murga a Panama, some Pica y Pica, bugalu for you & Make Way for Aurora & David in the house... for the holidays.....¡WEPA!



Like Us on FaceBook here:
Link

Watch us over Youtube here:
Link

Tweet us here:
Link

Listen to our updated experimental version of Aires de Navidad where the brass play the cuatro parts.
Re-arranged by David Fernandez, musical director


Join our Parranda:


Get some "Lechon de Cachete" (forfree Forreal)


Aires de Navidad w/ Yomo Toro


Aguilnaldos PARRANDA JAM w/ Yomo Toro & Danza Fiesta WEPA


Bringing in the 3 KINGS: 3 Reyes Magos y YOMO TORO
CARNAVAL



Monday, September 17, 2012
Zon del Barrio's Finale in France w/ GlobalFest 9/7 — 9/10
Check out the finale of Zon del Barrio together with the NY Brass Band, the Hot Sardines, Golem & mo'



VOTE, VOTE, VOTE FOR ZON DEL BARRIO...

Aurora & Zon del Barrio

Source: thesalsamusicawards.com

A hip-shaking, funk-based evening of Latin music dancing. If you like SALSA,we do it "dura" hardcore style. If you like Boricua roots music of plena and bomba, we do it Cortijo style and if you like it like that, Zon del Barrio does it like that with English language boogaloos. A play on the musical genre of "son" found throughout the Caribbean and "zone" where people of color struggle hard and party just as hard, Zon del Barrio brings you music from the African Diaspora to the streets of New York:

CLICK HERE TO VOTE:

http://www.thesalsamusicawards.com/index.php?option=com_content&view=article&id=152%3Azon-del-barrio&catid=37%3Amale-salsa-artist-of-the-year&Itemid=274

NOT AFFILIATED W/ IZZY SANABRIA OR SALSA MAGAZINE

Monday, September 17, 2012
Zon del Barrio's Adventure in France w/ GlobalFest 9/7 — 9/10
When Tito complained to the concierge that his tv wasn't working, the French dude there responded: "You're in Paris, the most beautiful City in the world, why do you want to watch television." Before he turned and left.




Nuestra adventura musical en Francia adonde el moso del conciage le contesto a Tito cuando se quijo que su televisor no trabajaba: "Estas en Paris, la ciudad mas bella del mundo para que quieres ver televicion?" Y se fue...


VOTE, VOTE, VOTE FOR ZON DEL BARRIO...



Aurora & Zon del Barrio

Source: thesalsamusicawards.com

A hip-shaking, funk-based evening of Latin music dancing. If you like SALSA,we do it "dura" hardcore style. If you like Boricua roots music of plena and bomba, we do it Cortijo style and if you like it like that, Zon del Barrio does it like that with English language boogaloos. A play on the musical genre of "son" found throughout the Caribbean and "zone" where people of color struggle hard and party just as hard, Zon del Barrio brings you music from the African Diaspora to the streets of New York:

CLICK HERE TO VOTE:

http://www.thesalsamusicawards.com/index.php?option=com_content&view=article&id=152%3Azon-del-barrio&catid=37%3Amale-salsa-artist-of-the-year&Itemid=274

NOT AFFILIATED W/ IZZY SANABRIA OR SALSA MAGAZINE

Tuesday, August 21, 2012
This Thursday: Aug 23, David Fernandez plays w/ Larry Harlow & the Latin Legends



This Thursday Aug. 23rd FREE concert with Larry Harlow and the Latin Legends Band at NJPAC in Newark NJ at 5:30 pm with guests Alfredo de la Fe and our own David Fernandez......including Luisito Rosario, Emo Luciano, Bobby Sanabria, Chembo Corniel, Lewis Kahn, Pete Nater, Mac Follehon, and Frank Fontaine..... Be there ...es ¡GRATIS!

Check out the NJPAC website for more details & directions... www.njpac.org

1 Center Street
Newark, New Jersey 07102

Please like our Zon del Barrio Facebook page. Just click here:

http://www.facebook.com/Zondelbarrio?ref=hl