Zon del Barrio - Events
Monday, May 18, 2015
Celebrate Nicky Marrero's 65th birthday on Father's Day
Join us in celebrating Fania All-Star alum, Nicky Marrero's 65th birthday & 50 Years in Latin Music in a special Father's Day afternoon Danzette w/ Orq. Zon del Barrio and many special, surprise guests. Spend the afternoon dancing, socializing, eating and schmoozing with one of Latin music's top drummers who has played with everyone from Eddie Palmieri to Tito Puente. Celebrate Nicky Marrero in his 65th musical year.

Food, drink and Salsa Warriors' Carmen Cepeda will be spinning the hits all afternoon.

$20 at the door.

www.zondelbarrio.com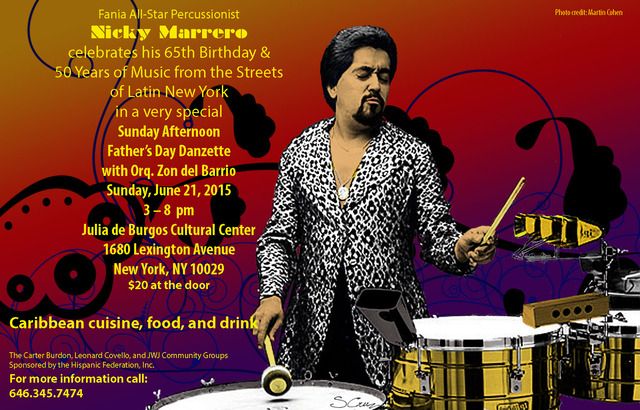 Nicky Marrero w/ Oreste & David of ZDB in a Descarga Timbal:




Thursday, March 19, 2015

Easter Sunday Danzette celebrating 87 years of CHOCOLATE Armenteros

Celebrate Spring in this Easter Sunday danzette celebrating 87 years of Chocolate Armenteros, An Afro-Cuban trumpet legend.

Considered the Louis Armstrong of the Afro-Cuban Trumpet for those who know nothing of Latin music, but for all the rest we celebrate his 87 Years of Funk THIS SUNDAY in a special Easter Sunday afternoon danzette marking 87 years of Chocolate Armenteros,

He can be seen over youtube schooling Wynton Marsalis on the improv style of the Afro-Cuban trumpet. He organized the big band of his cousin in Cuba, the great crooner Benny Moré after making his name in the band of Arsenio Rodriguez, the blind marvel. He arrived in New York in 1957 with a contract to play in the Machito Orchestra. From there he did the Apollo, Dizzy, Eddie Palmieri, Larry Harlow, Johnny Pacheco, Ismael Rivera and so many more.

Chocolate is celebrating his 87th birthday and will be backed by Zon del Barrio with a 13 piece orchestra with musical direction by David Fernandez.

Enjoy an old school afternoon of Palladium dancing, Latin jazz, and Latin music legends. Surprise guests. Salsa Warriors' own Carmen Cepeda will be spinning that afternoon.

Rumberos Amigos de Chocolate will kick off the show playing Bata, Guiro, Palo and Rumba.

The members include:
Antonio Mayari,
Carlos Sanchez
Hector(Flaco) Hernandez
Jose Fernandez
Jimmy Cruz
Willie Sanabria
Babaila Martinez

Rumberos de Chocolate will be followed by Orchestra Zon del Barrio with Maryann Santiago & Jorge Maldonado on lead vocals. Plus, surprise invited guests. Salsa Warrior's own Carmen Cepeda will be spinning all afternoon.

Zon del Barrio will perform "Zon del Chocolate" and the newly commissioned Danzon: "Villa Ranchuelo" written & arranged by David Fernandez.



[b]Sunday: April 5, 2015
Doors open: 2 pm - 8 pm
$20

Julia de Burgos Cultural Center
1680 Lexington Avenue
New York, NY 10029

Zon del Barrio featuring Chocolate Armenteros:



An original for an original: Zon de Chocolate:


Friday, October 03, 2014

An Audience With the King

The King & I
Published in the Hunter College Centro Journal, Oct. 2, 2014






By Aurora Flores




I was on my way to interview Tito Puente, the King of Latin Music, and my first major assignment as a writer. I was excited, elated to have been picked for this project, and nervous, very nervous. Absentmindedly, I bit the last of what remained of my right thumbnail thinking of the many questions I had researched over the past few days as the #1 train pulled into my station. It was hard to see the stop from inside the bubble-art, graffiti-covered car, "Taki 183" tagged all over the windows. I already knew to get off three local stops after Seventy-Second Street. Climbing the stairs at the Fiftieth Street exit, I pulled the yellow piece of paper from my pocket: RMM Management, 1650 Broadway and Fifty-First.

Click on the link above to read the entire article here: bit.ly/1xGnRr1


Friday, August 22, 2014

Zon del Barrio @ Atlas Park Mall in Queens on Mon. Aug. 25, 2014

Back by popular demand we'll be performing two shows hitting at 7 pm.

Join us for some dancing in the mall. It's FREE!

Monday, August 25, @ 7 pm

Atlas Mall
8000 Cooper Ave,
Glendale, New York 11385



Friday, July 04, 2014

Salsa Meets Jazz on the Hudson, Sun. August 17th...

Join us on the banks of the river, baskets brimming w/wine & cheese on lush, verdant fields where salsa meets Jazz on the Hudson feat.
Chocolate Armenteros &
Nicky Marrero
in a Zon del Barrio salute to Cheo Feliciano.

¡A GoSalza!

Click here if you can't read the flyer:

hhttp://myemail.constantcontact.com/Salsa-meets-Jazz---Jazz-in-the-Valley-Aug--17th.html?soid=1102502633135&aid=YW2uwpCOQqY#fblike





Zon del Barrio pays tribute to Alfredo "Chocolate" Armenteros in Central Park for his 85th birthday:

Zon del Barrio produces & celebrates the Yomo Toro Place street naming block party in a special Fania All-Star tribute right in front of 162nd St. & Ogden Ave. in the Bronx where Yomo Toro lived.



ZDB creates an original tune for Chocolate Armenteros, written by Aurora & Oreste Abrantes, performed here for the first time in Central Park. Check it out on our upcoming CD:



Wednesday, June 18, 2014
Jazz in the Valley w/ Chocolate Armenteros, Nicky Marrero & ZDB Sun, Aug. 17
THIS is going to be HOT... Zon del Barrio w/ Chocolate Armenteros, Nicky Marrero and a salute to Cheo...

Spend the weekend or just come to picnic on the beautiful grounds and dance w/ us on Sunday, but get your tickets now.

http://www.jazzinthevalleyny.org/

Saturday, May 24, 2014
Happy Memorial Day Weekend....¡WEPA!
Personalize funny videos and birthday
eCards
at JibJab!
Sunday, January 12, 2014
Celebrating Melissa Mark-Viverito, NYC's first Latina Council Speaker
Celebrating Melissa Mark Viverito feat. Prodigio Claudio w/ Zon del Barrio...¡WEPA!




Thursday, November 28, 2013
3 Kings Day / Octavitas @ SOB's Fri. Jan. 10, 2014
THIS JUST IN: WE WILL BE JOINED, DIRECT FROM PUERTO RICO, BY PRODIGIO CLAUDIO, a virtuoso on the cuatro.

We will also be celebrating Melissa Mark-Viverito as the first Latina/ Puerto Rican Speaker of the City Council. Here is the jingle we wrote for her eight years ago that today is prophetic: CON MELISSA MEJORO EL PUEBLO...




Join us for our traditional 3 Kings Day / Octavitas dedicated to Yomo Toro. Bring your instruments, join our parranda and enjoy the music and special guest surprises.

Reserve your table now at SOB's for Friday, January 10, 2014

WEPA, WEPA, WEPA…

Stir the memories with this holiday story of a Puerto Rican Christmas in New York: Just click on the link below. FELICIDADES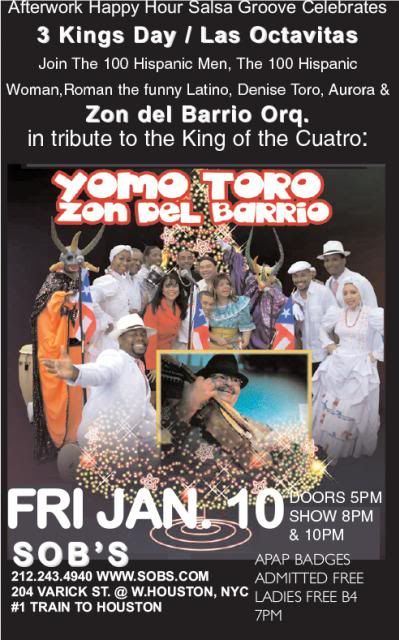 Wednesday, October 02, 2013
ZDB w/ Larry Harlow & Alfredo "Chocolate" Armenteros
SUNDAY, OCT. 13, 2013 Queens Center Mall, 6 P.M.

An exclusive Zon del Barrio concert with guest artists:

Fania all-star Larry Harlow, El Judio Maravilloso &
Alfredo "Chocolate" Armenteros, the Louis Armstrong of the Afro Cuban trumpet_

PLUS

The superstar salsa team of Yesenia Adame and Rodrigo Guzman __from the hit TV show:
DANCING WITH THE STARS!!!!

Win tickets to Vegas & Universal Music Latin Entertainment's after-party, enjoy a high energy fashion show, interactive games and more. Don't miss this fiesta filled weekend at the Queens Center Mall.



UN CONCIERTO EXCLUSIVO DE ZON DEL BARRIO CON ARTISTAS INVITADOS:

FANIA ALL-STAR LARRY HARLOW y

ALFREDO "CHOCOLATE" ARMENTEROS

ADEMAS

El duo dynamico de los bailarines del show de television: DANCING WITH THE STARS: YESENIA ADAME Y RODRIGO GUZMAN.

UN FIN DE SEMANA PARA GUARACHAR Y CELEBRAR NUESTRA CULTURA EN El MALL DE QUEENS.